ANTIBIOTIC
ZAPP THOSE BUGS - LIKE JEWELS ON STEROIDS!
Zapp those bugs with high voltage from your sliding fingertips.

Antibiotic is a great addictive fun game that will make your fingers and your brain burn!
Think of Jewels on Stereoids, you need to slide-connect at least three bugs, but those gritters are moving around!

This game features two modes, "Fingers" (Arcade) and "Brain" (Riddles).
more....
Fruit Rush
Now you can play this classic thrilling board game on your Android Phone or Tablet.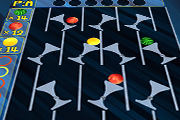 Throw in fruits at the top of the board and watch them slide. You then collect the fruits that drop out at the bottom.
So plan your move .... look out below ... one fruit can trigger an avalanche!
You can play many different games, suitable two to six children or adults - a fun game for the whole family. Of course you can also play alone against Android.
This game features fascinating real-world physics and stunning graphics and it just so much fun to play! more....
Coming soon
A lot of stuff... ;-)
Stay tuned for our next releases. Always check the Android market!